Owning a home is one of the biggest investments of your life and when you plan to sell, you'll want to make a profit. Often, that means figuring out how to increase your home's value. Homeowners know that when you own, it never seems to be quite finished. In the quest to make it is as comfortable, functional, and up-to-date as possible, there is always something that needs to be repaired, replaced or improved!
You don't have to call in a professional and spend a fortune to complete projects that add value to your home. In fact, there are many smaller improvements that you can do yourself and there's something for everyone - cheap and easy DIY projects for beginners, and more advanced home improvements for the DIY enthusiasts amongst us.
The EHL Team has seen many exciting DIY Home Improvement projects over the past few months due to the COVID-19's shelter -n-place order. It's certainly a great time to make changes to the place you call home. In this blog, we'll uncover some indoor and outdoor DIY home improvement projects that can add value to your home. Are
YOU
ready to get inspired?
Indoor Projects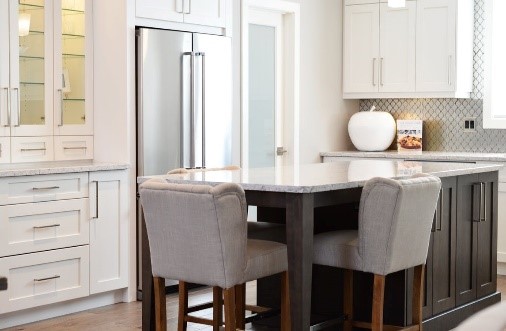 Spruce Up Your Kitchen
The kitchen
is the most valuable room in the house and is one of the biggest selling points for potential buyers -so why not spruce it up a bit?
Paint Kitchen Cabinets
A repaint can revitalize and modernize your kitchen, whilst saving you a bigger expense of having to get brand new cabinets. Tip: Use white paint to bring a bright airy feel to the kitchen.
Install New Cabinet Hardware
Switch your worn-out cabinet handles for new sleek chrome handles –
a fantastic way to bring your kitchen on-trend.
Install a Backsplash
This will instantly boost the value of your home. Backsplashes act as a barrier against water, blocking the growth of mold. They are available in a wide range of styles and materials, too!
DIY Bathroom Projects
The bathroom is also a crucial room for any buyer. A few simple DIY jobs can make your bathroom in tip-top condition before you start showing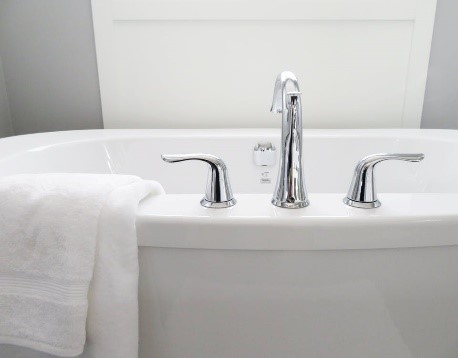 buyers around.
Add Storage
Everyone loves extra storage room. Why not build your own bathroom cabinet or install a set of floating shelves? This is a cost-effective way to add value to your home!
Replace the Taps & Install a New Shower Head
Invest in some new hardware for your sinks, bath, and shower. This will instantly renew your bathroom's appearance.
Redo
the Bathroom Floor
Is your floor starting to look dated? Laying a new floor can bring life to your bathroom.
Install a Towel Rack
A very simple upgrade and a nice additional feature for buyers.
Interior Home Improvements that Increase Property Value
DYI Crown Molding
Crown molding is very popular right now. It can bring an elegant finish to any room in your home with added appeal for buyers and more money for you.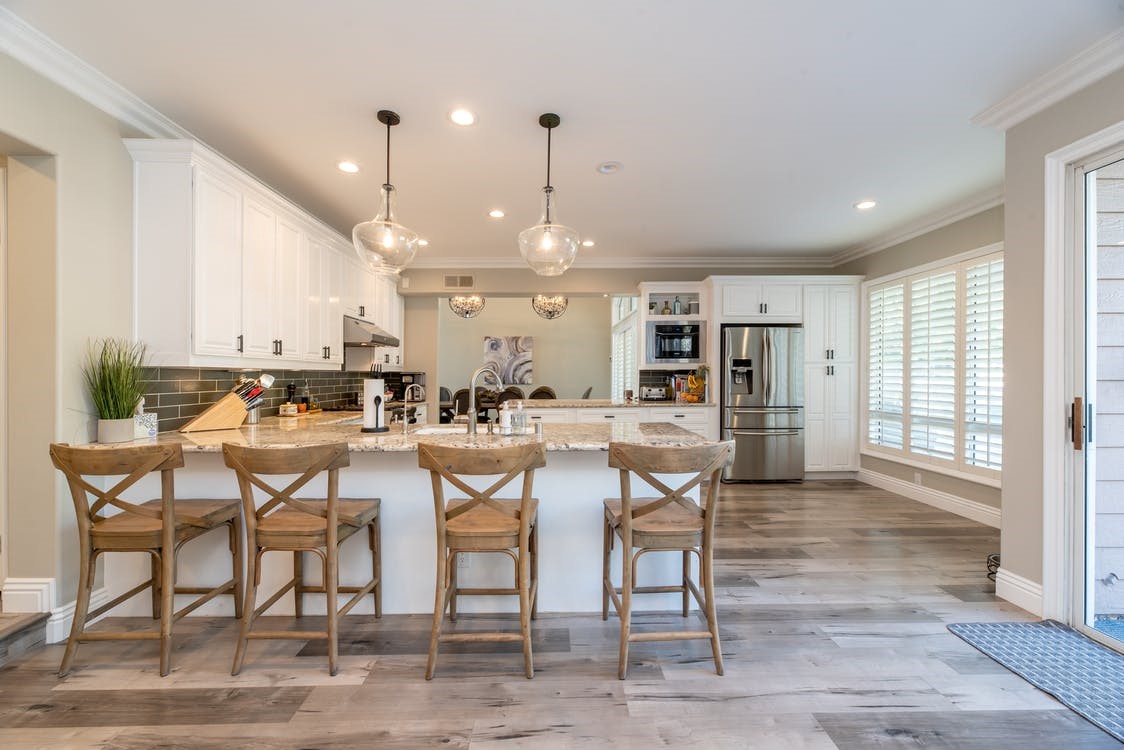 Light Fixtures
Get rid of your fluorescent lighting and replace it for recessed lights for a soft and timeless glow in rooms like the kitchen. Other options include wall sconces and modern chandeliers.
Repaint the Property in Neutral Colors
Buyers tend to want neutral colors that go with lots of different things. For instance, try painting your rooms with colors like greys, whites, and creams. Redecorating in these colors will make your property far more desirable and valuable.
Remove Popcorn Ceilings
Removing these may be tricky, so you may need professional help. While once a standard, these days they are widely considered eyesores that can turn buyers off from a property. Removing these types of ceilings will modernize your home and increase its value.
Replace Carpets
How old are your carpets? It may be time to replace them as over time they become threadbare, flattened and stained. Replace your carpets with new flooring. Laminate flooring is a good choice as it's cost—effective, durable and it's certainly a DIY project you can work on yourself, saving the need for a professional.
Hang Mirrors to Open Up Rooms
A well placed mirror can do wonders, especially for the appearance of small or narrow rooms. They add depth and make them look larger!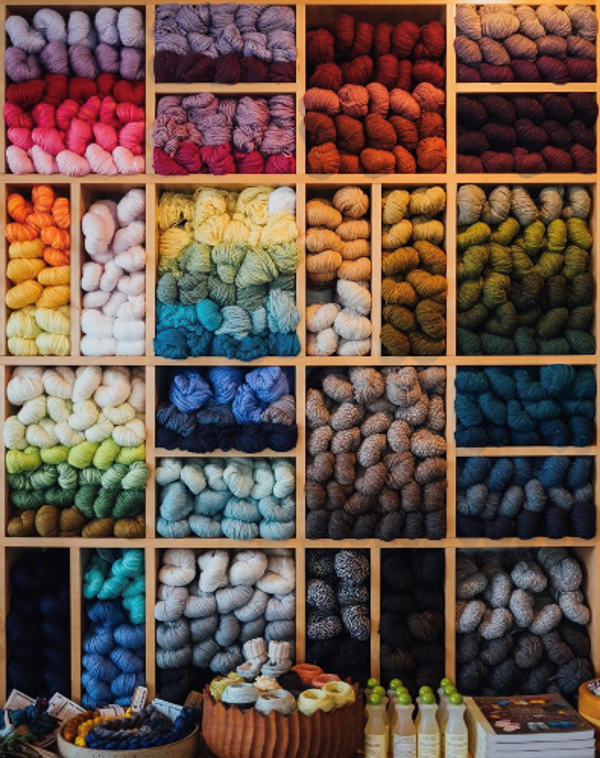 Add Storage Where Possible
Some homes lack in storage. However, adding additional cupboards and shelves where possible makes your home more practical and easier to live in. Have you had the time to organize your space?
Replace Dated Wallpaper
Wall paper was popular 20 years ago, but not so much anymore! Replace your outdated wall paper with a neutral paint color.
Knock Down Walls to Create Open Plan Living Spaces
You may want to leave this one up to the pros! Open plan living spaces are popular nowadays. Knocking down a wall between 2 rooms (kitchen and living room) will increase your home's value.
Fill Holes & Cracks in the Walls
You may have holes, chips or cracks in your walls. This will happen over time and is a result of wear and tear. They are worth repairing as it will improve the appearance of your home and the extra bit of effort may boost its value.
Restore Hardwood Floors
Hardwood floors are highly desired in homes. In the past they have been covered up by carpet. If you discover original wooden floors underneath your carpet, restoring them is a great way to increase the value of your home.
Updating Exteriors for Added Curb Appeal
Repaint or Replace Your Front Door
Your front door is the focal point for anyone entering your home. An old door can give the wrong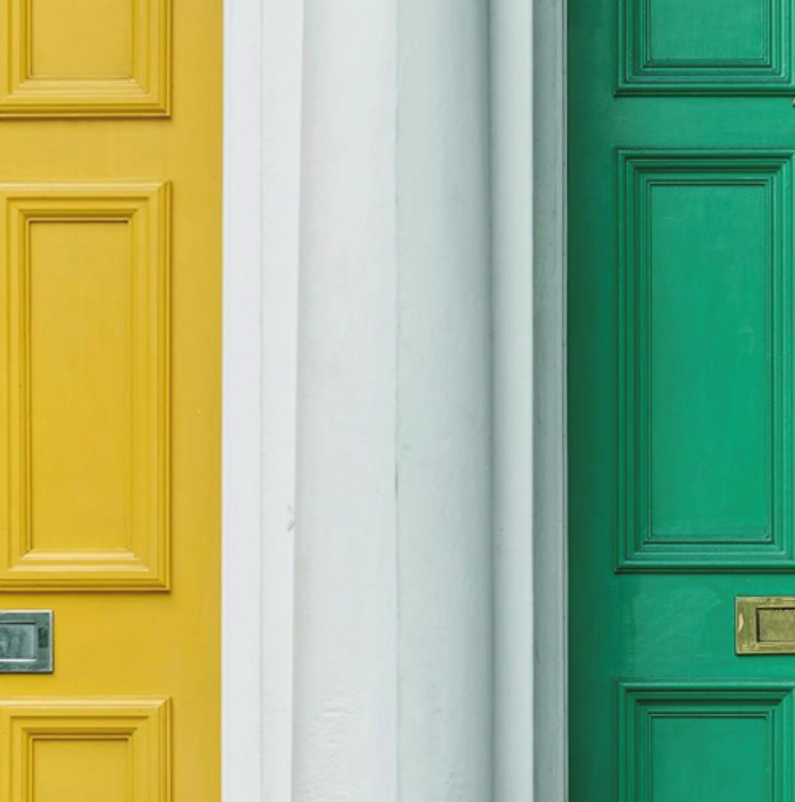 impression. You can repaint your front door to brighten and refresh your home's exterior. If you want to spend more money, you can opt to replace the door to a more modern style.
Basic Landscaping Refresh
A well maintained and landscaped garden and yard can do wonders especially if you're selling your home. Start by getting rid of unwanted weeds and filling your yard with colorful flowers - and don't forget to cut the grass!
Paint Window Frames
If your window frames are peeling and cracking, it's time to get your paint cans! This is an easy DIY home project. Adding a fresh lick of paint to your exterior window frames can provide an instant refresh.
Wash the Exterior of Your Home
The walls of your house can get very dirty over time. Use a garden hose and a scrubbing brush to eliminate dirt and revitalize your home's appearance. For some homes, a power washer may be suitable.
Replace Garage Door
You'll want to hire a professional to install a new garage door. This will add value to your home and it is one of the best things that you can do for your property, especially when you plan to sell it in the future.
Fun DYI Ideas:
Make Your Home Smarter
Upgrade to smart home appliances by installing a smart thermostat so your heating and cooling system can learn your routine and reduce your electric bill. Other smart home devices like, lighting, security cameras or speakers are a great addition, too!

Create New Ways to Discover the Great Outdoors
There is definitely a growing demand from buyers who want functional outdoor spaces. By creating backyard retreats as an extension of the home, from adding decks and patios to outdoor dining spaces and garden sitting areas, homeowners can add value and increase the enjoyment of their property! What would you add?
Garden

Sunroom

Backyard Patio

Outdoor Kitchen

Deck Area
Spray Paint Outdoor Furniture
Touch up your outside furniture. A can of spray paint can go a long way toward making an old looking piece seem almost new again and it's inexpensive.
Reupholster
Outdoor chair seats or cushions can get faded and forlorn after a few seasons, especially if they receive direct sun. You can spruce up your patio set by reupholstering the seats. It takes only a little fabric and a
staple gun
. Just remove the seat pads from the chairs, and put on something new and stylish. You can remove the old fabric or leave it on if it's not too thick and isn't badly damaged.
Taking Care of Teak
Do you have a teak outdoor furniture set? Teak wood is hardy and long lasting, but it should be refreshed every few seasons to keep it in tip top shape. Use a cleanser especially for teak, follow with a light sanding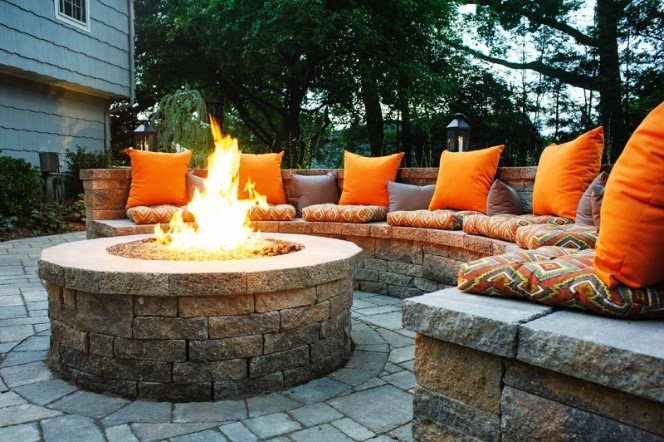 , and then seal with a protective sealer.
Re-stain
If you have weathered wood furniture, there are ways to get it looking good as new again with a fresh coat of stain. Sand and clean your piece first, then wash and let it dry. Apply your new stain according to directions. Wait until you see the difference!
Build an Outdoor Firepit
Nothing beats roasting marshmallows and sharing stories around a fire during the summer months. An outdoor firepit is a great investment and a way to bring friends and family together.
What home improvement projects would you consider?
You don't have to implement all of these home improvement/DIY ideas to increase the value of your home. Whether you start planning for a complete patio renovation or a simple home improvement project, updating your home (inside or outside) is a solid investment in increasing your home's value and appeal.