Staying at home doesn't mean your search for a new place needs to come to a standstill. Check out these tips on how to explore other neighborhoods virtually in the home buying process. You may find a spot that better suits your needs without ever leaving your living room!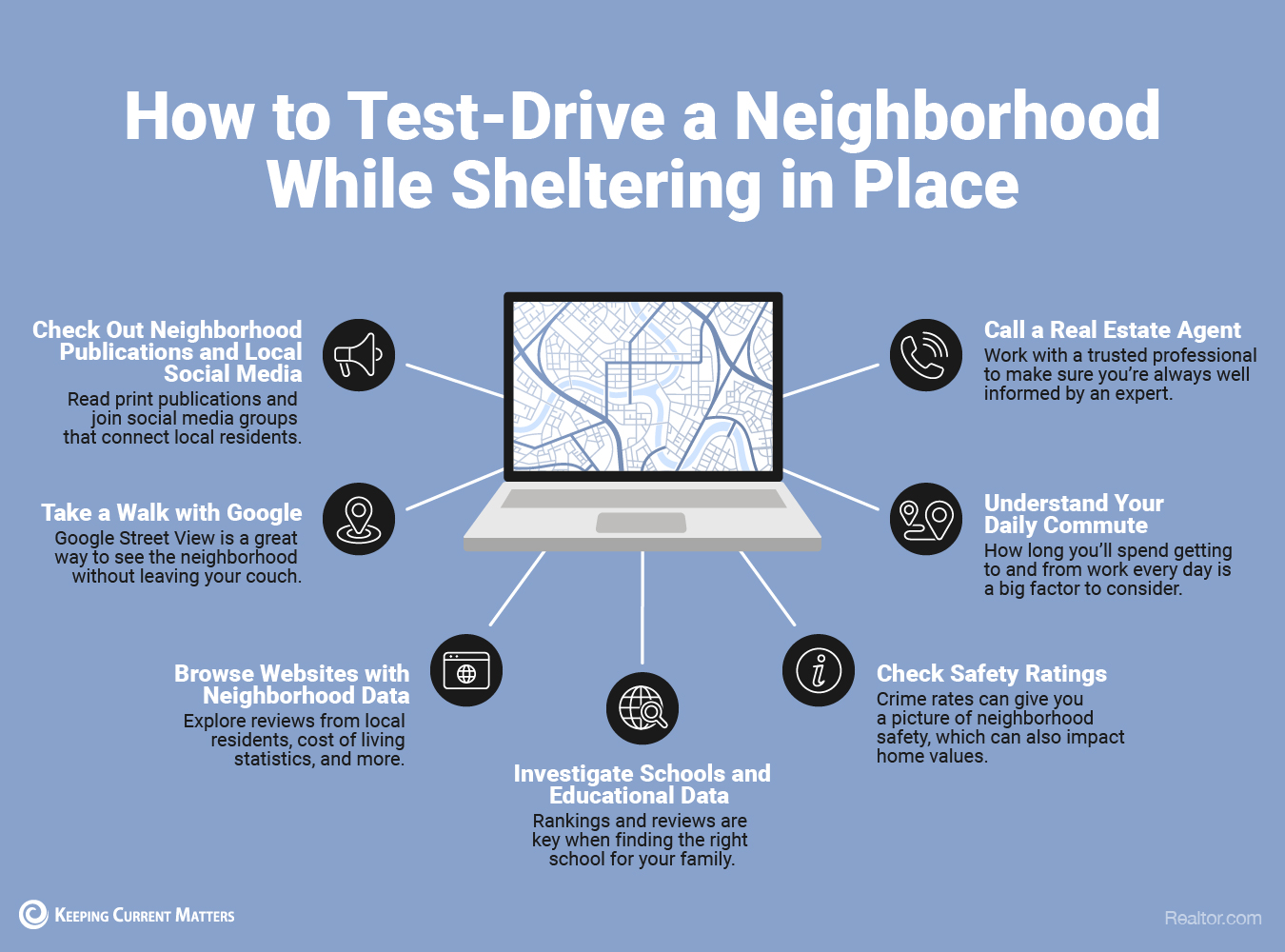 #1 - Check out neighborhood publications and local social media
An active neighborhood community will sometimes have a print publication or local social media groups that connect residents. These can provide information on local events and activities that will give you a better feel for the neighborhood. In addition, you can also browse Facebook, Twitter, and Instagram for groups or accounts that document what's going on in the neighborhood where you're interested in moving. Try interacting with locals in the community who can give you their opinions of their locale.
#2 - Take a Walk with Google
Stroll around your potential new neighborhood without leaving the couch! It's easy. Google street view is a great way to view the street and neighborhood virtually. You can access Google Street View by clicking here. Each listing on realtor.com features a link to the Google Street view for that address as well.
#3 - Browse Websites with Neighborhood Data
Gather as much information as you can on your next neighborhood. There are many websites that can help you! City-Data provides detailed city profiles about everything from cost of living to weather to average home prices. Plug in your ZIP code to AreaVibes to get a livability score. This will he you narrow down the best places to live. Yelp provides not only reviews on local cafes, restaurants, and nightlife, but also unfiltered reviews from local residents.
#4 - Search other Real Estate Listings
If you want to learn about the typical architectural styles and ages of home in a neighborhood, browse online listings on sites like realtor.com.
#5 - Call a Real Estate Agent
A real estate agent can help by using technology to test-drive the neighborhood for you. Once you've found a home you're interested in, get in touch with your agent for more information on the neighborhood. They will have a insider's perspective on the area and knowledge on home there too.
#6 - Investigate Schools & Educational Data
Areas with good schools typically maintain property values, and its neighborhoods are high coveted.
#7 - Check Crime Rates
Safety is a priority for both buyers and renters, and crime rates can give you a picture of how safe or dangerous a neighborhood is. Low crime rates are not only safer but can also help keep property values high.
8- Plan Daily Commute
Get a feel for the neighborhood by monitoring traffic and your work commute. You can use tools like Waze or Google Maps which will help predict the level of traffic during your commute hours.
---
A real estate professional can help you with all of the additional steps along the way, so you're ready to make your next move. Be sure to get in touch with Emerald Home Loans for all your home financing needs.