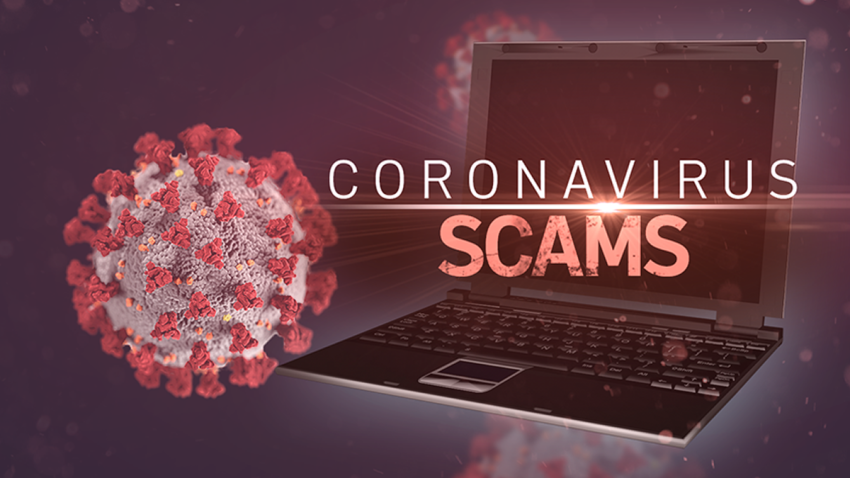 While most people want to help each other weather difficult times, there may be individuals who selfishly see disasters as an opportunity to profit. It's important to be diligent and on the lookout for those trying to take advantage of these circumstances.
During this time, individuals may become aggressive in trying to gain sensitive personal information or collect donations for fraudulent charities. Be wary of any social media requests, texts, or phone calls related to COVID-19.
Here's what you need to know about the most common types of scams and what you can do to protect yourself.
Robocalls: Hang up! Don't press any numbers.

Online offers for vaccinations and home test kits: Ignore these offers. There are no FDA-authorized home test kits for the Coronavirus. You can visit the FDA website to learn more.

Text Messages/Emails: Don't respond to text messages and emails about checks from the government. Anyone who tells you they can get you money now is a scammer.

Links from Unknown Sources: Don't click on links from sources you do not know. This could download viruses onto your computer or device. Before clicking a link or sharing personal information online, stop, pause, and research the company or person. Make sure the anti-malware and anti-virus software on your computer is operating and up to date.

Donations: It's important to do your homework. Don't let anyone rush you into making a donation. If someone wants a donation in cash, by gift card, or by wiring money, don't do it. The best way to donate money to help those affected by a crisis is to go directly to the charity's website. For online resources on donating wisely, you can also visit the Federal Trade Commission (FTC) website.

Online Sellers: Know who you're buying from when purchasing online. Online sellers may claim to have in-demand products, like cleaning, household, and health and medical supposes, when in fact they do not. Check online reviews of any company offering COVID-19 products or supplies. Avoid companies whose customers have complained about not receiving items.

Emails: If you receive an email claiming to be from the Centers for Disease Control and Preventions (CDC) or experts saying they have information about the coronavirus be wary. For up-to-date information about the virus, you can visit the CDC's website here. Double check the actual email address. A government agency's email address will end in .gov not .com. Even if you do believe an email is legitimate, always navigate to the organization yourself rather than clicking a link within the email.
Where can I find legitimate information about the Coronavirus?
It's smart to go directly to reliable sources for information about the coronavirus. That includes government offices and health care agencies.